Every business owner should strive to be a well-established powerhouse in their own niche. To achieve this goal, it requires a different marketing strategy to reach this level of success. An up-and-coming technique that has helped a lot of local businesses is Google Local Service Ads.  If you are not familiar with Google Local Service Ads, then you are in for a treat.
What is Google Local Service Ads?
For those familiar with how Google Ads works, you know you must pay each time someone clicks on your ad. With Google Local Service Ads, you do not have to pay for these clicks to your website. Your ads will show up for customers in your service area, and you only pay if a customer calls you directly through your ad. This service is a unique advertising tool for your business as it offers you a way to stand out at the top of the search results when users search for local services.
Below is a list of what Google will show for your local service ad:
Your business name
The business ratings
The location of your business
Customer reviews of your business
Phone number
Business Hours
There is also a background check that is involved that will verify your business's search result rankings. Now, these rankings can either rise or fall based on accurate information your customers receive. After the background check is complete, you get a green "Google Guaranteed" checkmark, which will appear in the ad search result area.
Here is an example of how your ad will appear to prospective clients: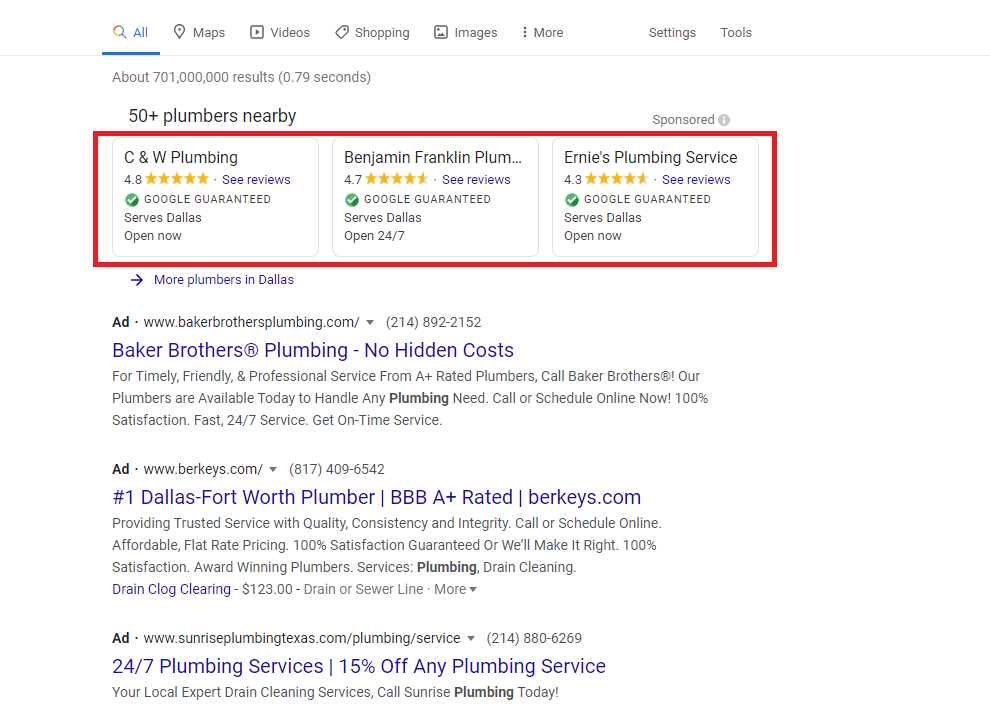 What Businesses Can Utilize Google Local Service Ads?
 Below is a list of a few industries that can take advantage of this service:
Law Firms
Auto Service Technicians
Roofers
Pet Groomers
Window Service Providers
Locksmiths
Plumbers
Photographers
And much more
What are the Benefits of Google Local Service Ads?
There are many benefits to using Google Local Services Ads. Fortunately, I have broken down the list to the top 5 benefits this service offers your business.
Creates Brand Awareness
As shown in the picture above, your ad will show up at the top of the search results, which will give your business a lot of visibility. Visibility leads to more leads as people become aware of your services. Did you know that Local Service Ads receive almost 14% of all clicks? Think about it. Your business could be missing out on this group of potential leads.
If you look right now, you will notice that many of your competitors are not using this feature, so now would be a great time to jump on it to give you an edge over your competition.
Since it is a relatively new service, you will only be competing against one or two other companies for the top spot rather than hundreds of businesses battling for priority on the organic search page.
The sooner you create your Local Search Ad, the better the position your listing will be in if your competitors decide to join the Local Search Strategy.
Pays for Relevant Leads
Earlier in the article, I mentioned how you get charged for clicks on your ads using Google Ads. Some of those clicks can waste money as some of the traffic might not be relevant to who you are targeting. The worst part is having to pay for spamming leads. With Google Local Services, you will not have to pay for any of these irrelevant leads.
As mentioned earlier, with Google Local Service Ads, you only pay for relevant leads. For example, if someone reaches out to you, then you will be charged. This process will help filter out irrelevant leads and more defined traffic coming to your website.
Below is the list of invalid leads you do not have to pay from Google:
The call was from a wrong number.
The caller was trying to sell you a product or service.
The call was pre-recorded or came from a bot.
The customer provided incorrect contact information.
The caller was looking for a physical store or looking to buy something other than a service.
You are also able to dispute an invalid lead for a selection of reasons. Google will credit the cost of the lead within one week if viable.
Control Over Targeting When and Where Your Ad Displays
With Google Local Service Ads, you can target your ad to appear where and when you want to show it. You can choose the exact cities or zip codes where you provide services. At any time, you can update your profile to add or remove cities, as well as zip codes.
Know Exactly How Much A Cost-Per-Lead Will Cost
Google Local Service Ads allow you to set up your budget and give you the cost-per-lead you can expect. For other marketing platforms, that can be hard to determine. You have the option to set your budget by the dollar amount of the number of leads each week.
Give Customers Ease of Service
For a business to receive Google's Guarantee badge, it must show proof of insurance and license. The business owner also must take a background check, which I mentioned earlier in the article.
Once your business has Google's Guarantee badge, it will show potential customers that they can trust your business. If a customer is unsatisfied with your services, for any reason, they can submit for a refund, and Google will refund them at no cost for the business.
Let's Get Started
Here at ARYU, our team of marketing experts will help you start running a local advertisement campaign. As a Google Premier Partner, we know what it takes to drive results with paid ads. If you want to know more, contact us today and see how we can help with growing your business by running Local Services Ads.