Google has been a driving force in helping brands expand their digital presence while also boosting their conversions and sales. While Google has created a plethora of helpful tools businesses can utilize to boost brand awareness, that doesn't mean the tech giant isn't afraid to remove some of these tools. In December of 2019, Google decided to remove one such marketing tool: Google Ads' Message Extensions. The company announced that on January 27, 2020, the Ads' extension will no longer be available. After January 27th:
You will no longer be able to create new extensions nor update existing ones.
All existing message extensions will cease to run.
You can still retrieve data from your existing extensions through the end of 2020.
You will able to remove existing extensions through the end of 2020, as well.
If you try to set up or update message extensions, you will receive error messages.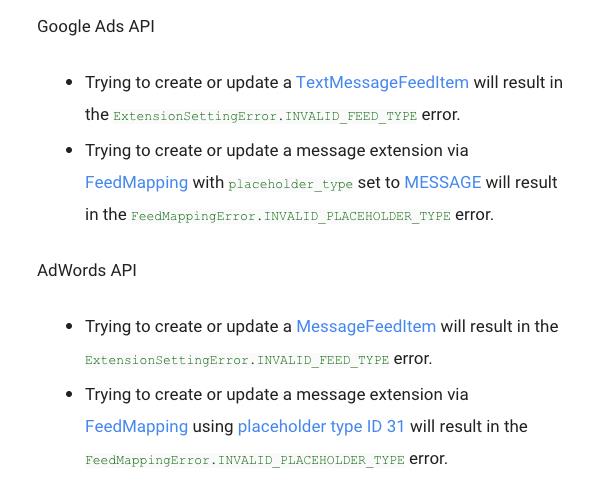 While countless businesses, brands, and marketers felt like Google Ads' Message Extensions were a welcome addition to marketing campaigns, Google must have felt differently. The tech company only introduced message extensions to AdWords in 2016, making their existence, while useful to many, short-lived.
As one of the premier digital advertising agencies in North Texas, ARYU Advertising keeps a close eye on the world of digital marketing. We strive to stay up to date on all the best practices and tools in digital marketing.
What are Google Ads' Message Extensions?
Google established message extensions in 2016 as a way for businesses and consumers to connect easier. Google designed these extensions to only be seen by mobile users. Through message extensions, consumers were able to send text messages directly to you through your ad. With a single click, a customer can quickly book an appointment, get a quote, ask for further information, check the availability of a product, and much more.
Marketers utilized these extensions to help grow businesses and brands, providing users with a more convenient way to communicate with you. Google Ads would even take initiative and set up an automated message extension for you if you had recently set up a call extension or mentioned on your site that one of your goals was getting more people to message you.
How Extensions Worked
To set up a message extension, you had to have a phone number listed on Google, so you could receive and send texts with customers. Only mobile users were capable of using message extensions.
A mobile user just needed to tap on the message option in your ad to open the conversation. You could:
Create a default message customers could send to you
Set up an auto-reply message
Create default customer messages specific to their needs
You could either set up an email or phone number to send and receive text messages. You could send and receive messages from your mobile phone, or you could reply with an email that Google would send through an automated phone number.
Preparing for Life After Message Extensions
Many marketers and businesses were quite fond of message extensions and what they offered. Unfortunately, Google still plans on sunsetting this tool. Because so many brands and marketers relied on this tool to help grow their business and connect with new customers, many are beginning to worry. Marketers and businesses need to get together to create an effective marketing campaign without message extensions.
Thankfully, Google still offers plenty of useful tools to boost your brand recognition online. Here are some ways you can prepare your business for life without Ads' Message Extensions:
Take Advantage of Existing Extension Data:
Even though you won't be able to update or create message extensions, you still have complete access to all the data from all of your existing extensions. Google won't be removing this information until 2020 is over. Don't wait until the end of the year to take advantage of this data. Your mobile search accounts will be impacted the most moving forward, so this data will help you create an efficient plan for the coming months. If your extensions were a key driver for clicks and conversions, you are going to need to quickly establish a new way to convert mobile users.
Evolve Your Mobile Strategy:
Message extensions were only available to mobile users, so naturally, your mobile search accounts will take the biggest hit from this change. You must be prepared for this shift in your marketing campaign.
The number of your mobile conversions will naturally go down. You need to take a step back and assess your mobile bids. See what areas are excelling and where others are not. You should adjust your mobile strategy accordingly.
Utilize Call Extensions:
Before there were message extensions, there were call extensions. These operate much in the same way message extensions did. Marketers and users alike both loved call extensions, which inevitably lead to the creation of message extensions.
The fact that call extensions were created before message extensions and have outlasted them shows just how valuable they are. Call extensions allow customers to see your number on your search ad. They can then click the number to directly call your business. Additionally, unlike message extensions, call extensions could be seen on all devices, not just mobile.
Test Out Lead Form Extensions:
Another extension that doesn't receive as much acknowledgment as call or message extensions is lead form extensions. These are relatively new compared to its counterparts. These extensions allow you to gain more than just a user's phone number. Customers submit a completed lead form, which includes their name, number, email, and location straight from the search engine results page.
Lead form submissions are quick, connecting users to marketers in just a couple of clicks. Lead forms are swiftly proving to be a great tool for marketers. They could prove to be a great replacement for message extensions.
Even though Google is discontinuing their Ad's Message Extensions, there are still plenty of tools at your disposal to help your business and brand grow. If you are interested in growing your business, contact ARYU Advertising and let our expert team of marketers help.